Conventions 2017: AHCA and PCC SUMMIT
Speak directly with DART Chart at the AHCA and PointClickCare conventions this Fall.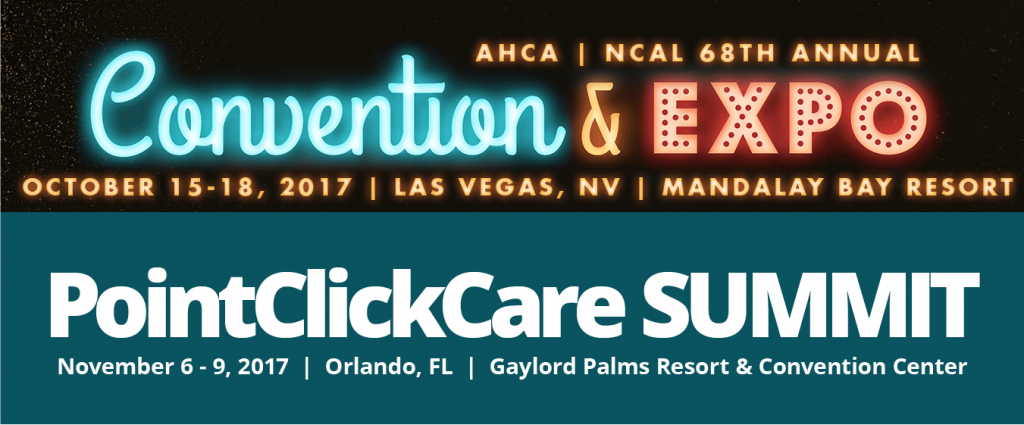 Sept. 18, 2017 – Milwaukee, Wisconsin – DART Chart will attend the AHCA/NCAL 63rd Annual Convention & Expo this year, followed by the PointClickCare SUMMIT.  
We've scaled up this year to provide additional services to our growing client base. Now, in addition to our reimbursement tools, we're offering tailored packages from care logging to full case management. And DART Chart's growth is accelerating as we meet the growing needs of the skilled nursing industry.
Whatever your needs are, DART Chart is here to help you with Managed Care and beyond. Meet us at AHCA and PointClickCare's SUMMIT and we'll take you through our comprehensive offerings.
Make the most of your visit to these upcoming events by seeing how DART Chart can boost your managed care revenue. Below are the times and locations of our Fall 2016 event schedule:
2017 AHCA/NCAL Convention and Exhibition

Dates:
October 15-18, 2017
Venue:
Mandalay Bay Resort
City:
Las Vegas, NV
Booth Number:
Booth 1223
Representatives:
Linda Kunz, Bernie Hoffmann, Rosemary Angsten and Tracy Hall
2017 PointClickCare SUMMIT

Dates:
November 6-9, 2017
Venue:
Gaylord Palms Resort & Convention Center
City:
Orlando, FL
Booth Number:
Booth 407
Representatives:
Linda Kunz, Bernie Hoffmann, Rosemary Angsten, and Tracy Hall
Schedule Your Appointment at the Upcoming Trade Shows