DART Chart Disrupts the Complexity of Post-Acute Payer Landscape
Improved Margin Results Reported through Map & Track Actionable Intelligence Solutions

June 16, 2016 – Milwaukee, Wisconsin

 

– DART Chart, a leader in post-acute payer solutions, shares exemplary 2016 results of its Map & Track with Quick Map managed care analytics. Large increases in managed care revenue and extra margin contribution were recently proven in implementations. Below is an example of the fast track results.
Just one month after implementation of DART Chart's Map & Track with Quick Map, a skilled nursing facility increased all beneficiary average managed care per patient day (PPD) revenue by $33.73.  Additionally, they were able to increase their higher paying Medicare managed care census from 10.6 patients per day to 12.9 patients per day.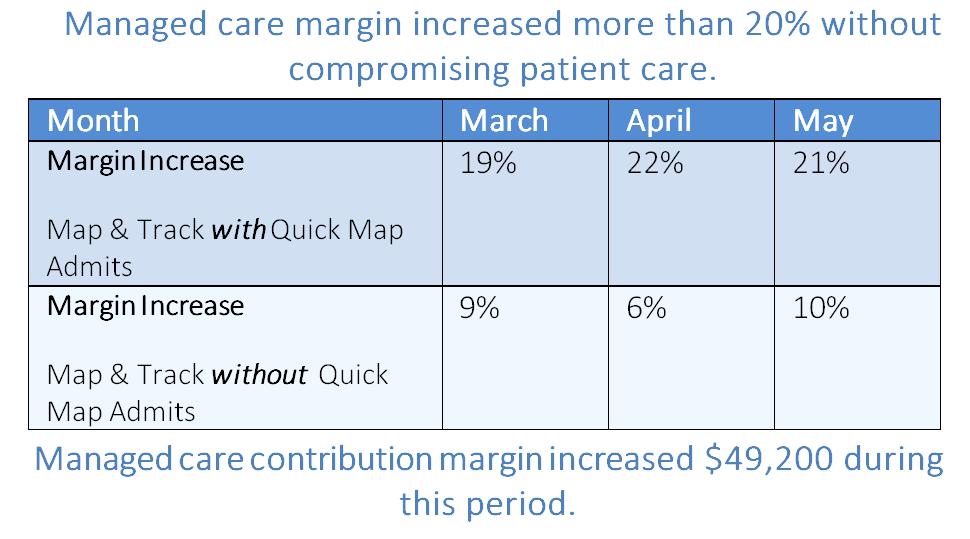 Map & Track with Quick Map drives these results:
Quick and accurate preadmission financialsallow immediate outlier negotiations with MCOs supporting faster decisions to accept referrals and increase census.

Costs are managedby daily mapping of care to insurance approvals and adhering to the insurance plan of care without compromising patient care.


Complete billing of services based on contracts approvals, authorizations, exclusions and approved vendors.

The ability to managepharmacy, therapy, and skilled care costs are the keys to the competitive edge that DART Chart clients experience.

"The current model of managing multiple payer types within skilled nursing facilities is not sustainable," stated Linda Kunz, CEO. "We are changing the landscape and providing proven, accelerated solutions that immediately increase margin for skilled nursing facilities.  MCOs have new, contract specific rules by contract and patient. To stay competitive, facilities need tools that expose revenue drivers and ensure maximum reimbursement for all the care that is provided."
"I love knowing immediately on the front end if we're going to make money or at least break even. Before using Quick Map, we would bring people in and by the time they left, we lost money. We didn't know until the end of the stay."
– Jeanice R., Care Relations Manager
Historically, skilled nursing facilities had three payer sources that were fairly straight forward to bill for – Medicare, Medicaid and Private Pay. Today, traditional Medicare and Medicaid payer sources are being replaced by dozens of Managed Care Organizations (MCOs). Facilities need to juggle multiple payer contracts with varying reimbursements for different care conditions to remain successful, so it is important that they start looking for partners to help them through the ever increasing complexities of payer reimbursement models. 
About DART Chart / Map & Track and Quick Map
DART Chart provides payment integrity and managed care compliance software solutions focused on long term post-acute providers. DART Chart's unique solutions make complex payer terms easy to compare with care provided ensuring accurate billing and reimbursement. Map & Track with Quick Map powered by DART has been utilizing actionable business intelligence to solve the complexities of managed care for skilled nursing communities and improving revenue and margin results. Since 2014, Map & Track and Quick Map serviced facilities throughout Wisconsin, Illinois, Tennessee, Florida, Arizona, California, Virginia, and Missouri.  DART Chart is also expanding their solution to include star rating outcomes, readmission, and short stay tracking to assist nursing homes with enhancing capital and finding new revenue streams on bundled payments – watch for further product enhancement announcements coming soon!
PRESS CONTACT:
Kyle Puckhaber
(414) 247-3283
kpuckhaber@dartchart.com 
Sign up for industry updates and news.